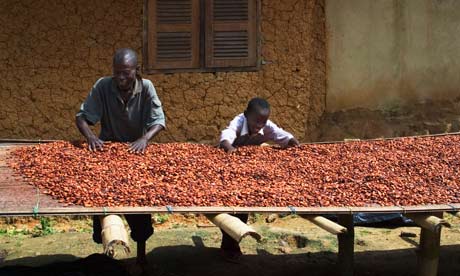 Hedge funds accused of gambling with lives of the poorest as food prices soar refers to a report on how trading in food commodity derivatives inflates and destabilises food prices with devastating consequences for the poorest communities globally.
Deborah Doane, WDM director, said: "Investment banks, like Goldman Sachs, are making huge profits by gambling on the price of everyday foods. But this is leaving people in the UK out of pocket, and risks the poorest people in the world starving. "Nobody benefits from this kind of reckless gambling except a few City wheeler-dealers. British consumers suffer because it pushes up inflation, because of unpredictable oil and raw material prices, and the world's poorest people suffer because basic foods become unaffordable." The group used figures in Goldman Sachs' annual report to estimate that the bank made a profit of $1bn (£650m) through speculating on food last year.
This report follows the issue blogged on here on July 2nd – How Goldman Sachs gambled on starving the world's poor – and won.
David Harvey calculates that the global capitalist economy has to aim, for a variety of structural and systemic reasons, for about 3% growth per annum. As a result capital is always looking for forms of investment to achieve this. As one set of opportunities collapses or becomes exhausted – for instance the dot.com boom and bust 1995 to 2000 – capital looked elsewhere. When the dot.com bubble burst capital moved into property eventually leading to the toxic debts underlying the current economic crisis. More recently it has moved into commodity futures, destabilising markets such as energy and food. Regulations to control speculation on food prices were dismantled about 5 years ago spawning the food derivatives industry. Perhaps the latest money spinner for the speculators and casino capitalist will be carbon cap and trade. The full story has a number of components that need investigation – commodification, marketisation and financialisation, deregulation and the development of speculative derivatives markets. All of this is connected with privatisation, the loss of accountability and the erosion of democratic controls.
For a brief history of bubbles and burst see  The Great American Bubble Machine.