In recent years when talking about cycling with youngsters, and even older people new to cycling,  I have been somewhat surprised and disappointed about how many have not heard of Beryl Burton, probably the most successful female racing cyclist ever, certainly in the UK. I thought a brief account of Beryl with a couple of my own anecdotes about her would be a suitable topic for this blog. The spur has been a chance remark made by a good cycling friend of ours, Dave Robbins (more of whom in another post!), when he and his wife Christine, also a keen cyclist,  were eating with us last Saturday evening. Dave, somewhat younger than me but perhaps not in the full flush of youth any more, is still riding and racing and a few weeks ago was helping marshal a Yorks Road Club time trial. One of the competitors was Brenda Littlefair, a contemporary of Beryl Burton and still racing today with her life long club, the East Bradford CC. In the 1960s and 70s Brenda was wining medals at national level in time trial events and is still racing today well into her 70s. Beryl would be 75 now if she had not tragically died of a heart attack at the age of 58 while out on a social ride.
Beryl's record was remarkable by any standards, male, female or anything in between.  She won 96 National championships in time trialling, track pursuit and road racing. From 1960 to 1974 she was British track pursuit champion 13 times. From 1959 to 1974 she was British road race champion 12 times. In all the main time trial distances (25, 50 and 100 miles) she was the national champion almost without break from 1958 to the early 1980s. She was the 10 mile TT champion for four consecutive years 1978-81. She was a prolific winner on the world stage too. She won the World Pursuit Championship in 1959, 60, 62, 63 and 66. She won medals in 11 world pursuit championship spanning 3 decades starting with the Gold in 1959 and finishing with the Bronze in 1973. And, despite being a big gear pushing time trialist, she won the World Road Race Championship twice in 1960 and 1967 and took the Silver in 1961. By her own admission she did not have the immediate acceleration or sprinting ability generally needed for road racing success. Consequently her winning strategy was to sit in until the other riders were beginning to show signs of fatigue and then take off on her own. She simply upped the pace and burnt everyone else off her wheel. From then on the race became Beryl out on her own time-trialling to the finish while behind her the others with any pretensions of winning frantically trying to organise a team time-trialling effort to bring her back. The long lone break, especially when a do or die bunch is at full cry hunting you down, is probably the hardest way of winning a race. Beryl pulled it off twice against the best female cyclists in the world. She undoubtedly favoured pushing a high gear. One report I remember claimed she often used a 62 chain-wheel with a 13 rear sprocket! This is a gear of 129 inches with a development of nearly 34 feet ('development' being the distance travelled for one revolution of the pedals). If this is true it explains a lot. Very few men could handle a gear that big.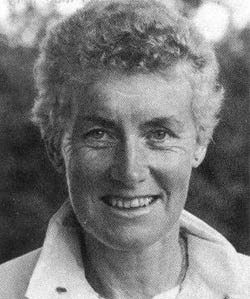 We had first hand experience of Beryl's awesome power when she caught us up one Sunday afternoon when we were riding with the York Tandem Club near Malton. This was sometime in the late 70s when she was still at the peak of her powers. A group of tandems and a couple of solos were being led by David Holland. We were on our way back to York where we would put our tandem on the roof rack and drive back to Leeds. Beryl, she told us, had been on a training run round the Yorkshire Wolds and was on her way back to Morley, to the west of Leeds.She would have done well over 100 miles that day. She slowed down along side David to have a chat just as he had taken a large bite of a Mars bar. Despite having slowed down she was still half-wheeling us so we sped up to keep pace with her. David's attempts to respond to Beryl's questions about where we had been and how far were we going descended into farce as he struggled to breath, chew and talk all at the same time and only managed to choke and spit out soggy lumps of Mars bar all over his arms and handlebars. Beryl waited patiently while he composed himself and his face returned to something like its normal colour and after a few more words and "well,nice to have met you" said she had to get back to get the family's evening meal on the table. With that she pushed on her pedals and, accompanied by a couple of rasps as her back tyre bit into the road surface, she accelerated smoothly away. A tandem with a couple of teenage lads on it asked who was that. When told it was Beryl Burton they didn't believe it and decided to give chase and find out.  She was only a couple of hundred feet up the road but rapidly shrinking into the distance. Our two doubting Thomas's sprinted after her and soon all three were out of sight. About 15 minutes later we spotted the tandem coming back towards us. Apparently they never closed the gap and gave up exhausted. This was quite remarkable as tandems on flat and undulating roads have a significant advantage over solo cycles and these were two fit young men.
One of the most remarkable records Beryl held was for the women's 12 hour time trial. This she achieved in 1967 when she recorded 277.25 miles.This record still stands today despite massive improvements in equipment, nutrition and training methods. What was even more remarkable, the men's record was set in the same event, the Otley CC 12, by the Yorkshireman Mike McNamara, the then king of men's time trialling. But he 'only' managed 276.8 miles. Beryl started 1 minute behind Mike (in time trials competitors set off at fixed intervals and have to ride alone and unassisted – what the French call 'the race of truth') but 10 hours into the race she caught him up. As she rode past him she offered him a liquorice allsort  Apparently he said 'ta love'  and promptly ate it as she swept by. What further rubbed salt into the wound was the fact that Beryl worked full-time (variously on a beetroot farm and as a rhubarb picker) and only trained evenings and weekends whereas McNamara was virtually a full time racing cyclist. I think this is the only time a woman's cycling record has been faster than the men's. Today's 12 hour TT record for men stands at 317.97 miles set by Andy Wilkinson on the 5th August 2012. Think about it! The only time I have personally raced against Beryl was in a 2 up time trial. Dave Robbins and I made up a team and Beryl was on the start sheet paired with a 14 year old boy. I have vague memories of beating her but this may well be wishful thinking!
Apart from the tandem club incident I met Beryl to speak to on a couple of other occasions, once when involved with making a film about cycling for Yorkshire TV and once when she was the guest of honour at a club end of season dinner. The TV filming was quite an eye opener. I went with the film crew to reconnoitre a route a few weeks before filming. We drove around the Yorkshire Dales looking for suitable roads, views, village greens and pubs to film the cyclists on or against. The alleged 'club' group we assembled was like no other seen before. It had Julia and I on a tandem, Beryl Burton, one of the oldest members of the Leeds CTC section still riding on a vintage bike (he was in his 80s), a couple of normal cyclists and Marylyn Webb, at that time (early 1980s) one of the most popular presenters on Yorkshire Television, riding a sit up and beg ladies frame with a wicker basket on the front. It took us all day to take what turned out to be in the finished film about 10 minutes worth inter-cut with various archive clips of cycling through the ages. Beryl, unlike the rest of us, had cycled out to Threshfield were the filming started. Throughout the day she was friendly, chatty and patient and seemed quite happy to be one of the gang. The film ended with a sequence high on the moors overlooking a beautiful view of the Dales. Marylyn asked me if she could ride with me on the tandem and with her behind me we road off into the sunset with Julia following some distance behind on Marylyn's basketed bone shaker.
The occasion of the club dinner also demonstrated Beryl's friendliness and warmth. The club concerned was Velo Club Leeds, sadly no more. This must have been the late 70s or early 80s perhaps and Beryl accepted an invitation to be a guest and present the various cups and medals. Towards the end of the meal when she was introduced before the presentations it became quite clear that there was an expectation that she would give us a bit of a talk, an after dinner speech. This took her somewhat by surprise but with aplomb and modesty she rose to the occasion and gave a very good impromptu talk. She obviously felt very comfortable and at home with her own people, fellow club cyclists.
So much more could be said about Beryl and no doubt others have. These are some of my personal recollections of a friendly, warm and down-to-earth yet remarkable Yorkshire women who, if she was alive today would no doubt be lauded by the media and seen as a national heroine.
Beryl Burton on Wikipedia
Women's Time Trial competition records on the Cycling Time Trials web site
This video clip shows Beryl winning the 1967 World Championship alone and also 12 years later, riding a club time trial in the UK. Notice the massive chain-ring!